ISO22301
Jump to navigation
Jump to search
ISO 22301 is international BCM Standard in the field of Business Continuity Management (BCM). The convergence from the existing international and national BCM standards to an ISO standard is seen as a normal transition based on past management standards. It is updated in September 2019.
The good news is that all BCM standards including ISO 22301 will be have similar BCM implementation requirement e.g. "BC Programme Element" and "BCM Planning Methodology" and these processes will not differ too extensively when it is implemented with another BCM standard.
The key is to adopted a rigorous understanding of the similarities and differences to ISO 22301:2012 standard with reference to the organization's existing standards such as the BS 25999-2:2007 or SS540:2008 and to continue with the BCMS implementation.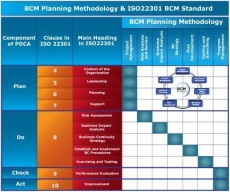 Glossary
Summary of ISO 22301 Requirement
1. Scope
2. Normative references
4. Context of the Organization

Understanding of the organization and its context
Understanding the needs and expectations of interested parties
Determining the scope of the BCMS

5. Leadership

Leadership and commitment
Management commitment
Organizational roles, responsibilities and authorities

6. Planning

Actions to address risks and opportunities
BC objectives and plans to achieve them
8. Operation
Operational planning and control
9. Performance Evaluation
Monitoring, measurement, analysis and evaluation
10. Improvement
History
The BCM world in recognition of the rapidly growing global interest in BCMS, ISO has developed through the Technical Committee known as ISO/TC 223 Societal security, the ISO 22301; Societal Security – BCMS – Requirements.
It is a specification standard to which certification bodies may offer third party certification to their clients. It forms part of the wider Societal security – BCMS series of documents which also consists of ISO 22300 – Vocabulary and ISO 22313 – Guidance.
In September 2019. ISO22301 is updated.
BCM Framework or Elements of BC Programme
ISO 22301 (reflected from the ISO 22313 Guidance) adopts a 6-element BCM approach to represents the continuous operations of the BC programme within the organization. These six elements of the BC Programme are:
Understand the Organization
Selecting Business Continuity Options
Developing and Implementing a Business Continuity Response
Exercising and Testing
Business Continuity Programme Management
Embedding Competence and Awareness