World Continuity Congress
Jump to navigation
Jump to search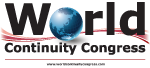 History of Congress
World Continuity Congress or WCC is BCM Institute's BCM and DR Conference and Exhibition. It is annually held within Asia. Since 2001, this annual Conference and Exhibition (formerly known as DRI Asia 2000 series) is established and recognized as the leading business continuity management and disaster recovery planning conference in Asia. This conference was renamed to World Continuity Congress in 2007 to reflect a global presence. The World Continuity Congress or WCC 2013 will be the 12th year of our BCM, CM and DR Conference and Exhibition. This conference had been held in Singapore with the exception of Kuala Lumpur, Malaysia in 2006 and 2009.
Format of Congress
World Continuity Congress offers 1 to 2 full day of visionary Business Continuity and Disaster Recovery keynotes experts with workshops to choose from. It also combines with two days of in-depth master class sessions tailored to organizations, customers, and partners.
Objective of World Continuity Congress
WCC is an annual event whereby we bring to Asia some of the forth most experts in BC, CM and DR to a single location within Asia. It is a good substitute for participants who would like to attend a good conference but does not have the opportunity to attend the conference in Europe or US. One of the most important outcomes is the get-together of some of the most senior BC or D R professionals at one location.
Website Link
Please write to event.my@worldcontinuitycongress.com for inquiry on sponsorship.