Part 1: RAR - List of Threats
Jump to navigation
Jump to search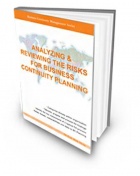 This is a list of possible threats to an organization. From this list, the Organization BCM Coordinator together with the BC Team is required to identify and extract the likely and high-impact threats that will affect your organization. Sometimes, this list of threats may be re-organized into three primary categories of internal and external threats: Malicious activities, Natural disasters and Technical disasters.
Meteorological (Natural)
Blizzard
Clouds
Cyclone
Drought
Dust storm
Flood
Flash Flood
Fog/ Haze
Heat Wave
Hurricane
Lightning
Rain
Snow
Thunder
Tornado
Tropical storm
Typhoon
Weather front
Water Spout
Wind
Wind Storm
Fire Storm
Fire - Wild, Rural or Urban
Social (Man-made)
Individual Behavior
Mass Behavior
Terrorism
Hijacking in individual, VIP or Group
Assassination
Torture
Poisoning
Wounding
Bomb

Bomb Threat
(IED) Improvised Explosive Device
Car Bomb
Suicide Bomb

Biological
Nuclear
Chemical
Cyber
Technological (Man-made)
Transportation Related Events
Aviation Accidentson air and ground
Rail Accidents occuring above or below ground
Maritime Accidents on port, near cost and off the coast
Vehicle Accidents

Car Accident
Multiple Car Accident
Bus Accident

Information Technology Related Events
Hardware Malfunction
Software Malfunction
Hazardous Materials Related Events

During Production
During Transportation by road, air, rail, pipeline and sea
During Storage

Supply Related Events
Utilities

Power Energy
Communications
Water
Gas
Oil
Gasoline

Food
Basic Services

Security Services
Safety Services
Health Services
Transportation Services
Medical (Man-made)
Epidemiology

Pandemic Flu
Dengue Fever
Geological (Natural)
Endogenic

Plate Tectonics
Igneous Activity

Exogenic

Slope

Mass Wasting
Landslide
Flow
Avalanche
Mudslide

Weathering
[1] Source: Goh, Moh Heng (2008): Analyzing & Reviewing the Risks for Business Continuity Planning, 148 pages.