BCP Distribution of Plan Document v2
Jump to navigation
Jump to search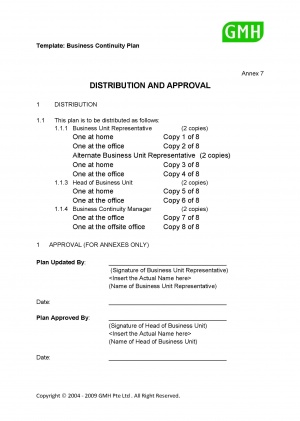 The section is the distribution of the plan, whether the plan will go to everyone, whether it will be segmented, whether it will be distributed on a "need to know" basis or be a part of every business unit's bookshelf.
It will define where the plan is to be kept, how it is to be protected and to whom it is distributed.
If segmented plans is the policy, there should be a distribution matrix that indicates the chapters and their intended recipients.
Content in BC Plan Template
This plan is to be distributed as follows:
Business Unit Representative (2 copies)

One at home Copy 1 of 8
One at the office Copy 2 of 8

Alternate Business Unit Representative (2 copies)

One at home Copy 3 of 8
One at the office Copy 4 of 8

Head of Business Unit (2 copies)

One at home Copy 5 of 8
One at the office Copy 6 of 8

Business Continuity Manager (2 copies)

One at the office Copy 7 of 8
One at the offsite office Copy 8 of 8