Part 1: MBCO & Product and Services
Jump to navigation
Jump to search

Part 1: MBCO & Key Product and Services
Corporate MBCO
Define MBCO
Notes (1): MBCO is set by the Executive Management of the organization and can be influenced, dictated and/or changed by current regulatory requirements or industry practices.
Notes (2): The MBCO is the management specification of what this level should be from a policy and 'top down' perspective.
Notes (3): The definition provided here rephrases the operational perspective into an objective - the mission objective for BCM.
Key Products and Services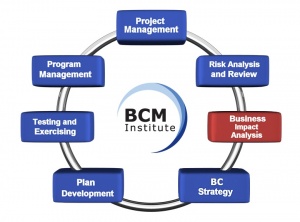 Instruction to BL-B-3/5 M2 Participant
When you are completing your MBCO and Product and Services. Do remember to speak to your supervisors or head of business units to ask them about "Which functions if not being able to continue will be of grave concern to him or her.
Examples of MBCO
Examples of Products and Services
Staff Training - Provide appropriate training to sales staff
Inventory Management - Ensure sufficient inventory for sales, and are up to date and minimize stock out situation
Workplace/ Store Safety - Ensure safety at all times external or internal to store
Sales Audit - Check of daily cash receipts from stores
Order Picking - Process orders and taking down products for deliveries
Promotion - Ensure retail strategy and promotion are executed timely