BCMBoK 7: Program Management
From BCMpedia. A Wiki Glossary for Business Continuity Management (BCM) and Disaster Recovery (DR).
Body of Knowledge Menu| BoK 1 | BoK 2 | BoK 3 | BoK 4 | BoK 5 | BoK 6 | BoK 7
Certification Menu | BCCP | CMCP | CCCP | DRCP | BCCS | CCCS | CMCS | DRCS | BCCE | CMCE | CCCE | DRCE | BCCA | BCCLA
Competency Level Menu | CL 1B | CL 2B | CL 3B | CL 1C | CL 2C | CL 3C | CL 1CC | CL 2CC | CL 3CC | CL 1D | CL 2D | CL 3D | CL 2A | CL 3A

1. Business Continuity Management Body of Knowledge 7 or BCMBoK 7 provides the minimum expectation for a BCM professional in the area of Program Management.


Ensure that the plan works and keep it current.

Formalize plan maintenance process.
Upkeep high awareness level.
Link the BC, CC, CM or DR effort to the organization performance.
Incorporate BC, CC, CM or DR as part of the key decision factors in business strategy formation.
Benchmark business continuity (BC), crisis communication (CC), crisis management (CM) or disaster recovery (DR) plan and BCM programme against international standards.
Formulate an objective mechanism to validate the "workability" of the complete plan.
Review and amend BC, CC, CM or DR plan to reflect changes in staff, equipment and procedures.
Maintain a Business Continuity Management (BCM) culture.
Ensure that the BCM programme and BC, CC, CM or DR plan is audited periodically.
Related Terms: Program Management.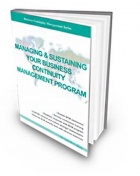 Courses

Guidance Notes and Templates
Body of Knowledge 7: Program Management Definitions
BCM Audit
CL One (1) | * CL Two (2) | * CL Three (3)
Business Continuity
CL One (1) | * CL Two (2) | * CL Three (3)
Crisis Management
CL One (1) | * CL Two (2) | * CL Three (3)
Crisis Management
CL One (1) | * CL Two (2) | * CL Three (3)
Disaster Recovery
CL One (1) | * CL Two (2) | * CL Three (3)
Revision Notes