Availability
Jump to navigation
Jump to search
1. Availability is the amount of time that a system will be available. It is calculated as a percentage of an elapse year.

Related Term: High Availability; Confidentiality; Integrity; See Notes (3) for cyber security context.

Notes (1): 99.99 percent availability equates to 0.876 hours or 52.56 minutes of downtime in a year (0.0001 * 365 * 24 = 0.876 hour) for a service or machine that is supposed to be available all the time.
Notes (2): Another definition is to ensure that the systems and data are accessible to authorized users when they need it. Both business continuity and disaster recovery address the availability leg of the information security principles, which is Confidentiality, Integrity and Availability.
Notes (3): Availability (of data) in the context of cyber security, means that data when required can be accessed anywhere at any time.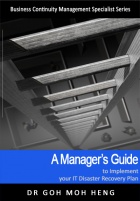 Courses
2. An umbrella term that includes reliability (including resilience), maintainability, serviceability and security. A common definition of availability is 'the ability of a component or Business Continuity (under combined aspects of its reliability, maintainability and security) to perform its required function at a stated instant or over a stated period of time'. Service availability is sometimes expressed as an availability percentage, i.e. the proportion of time that the service is actually available for use by the customers within the agreed service time.

(Source: ENISA - the European Network and Information Security Agency. BCM & Resilience Glossary)

3. The ability of a component or service to perform its required function at a stated instant or over a stated period of time.It is usually expressed as the availability ratio,i.e , the proportion of time that the service is actually available for use by the customers within the agreed service hours.

(Source: OGC, Information Technology Infrastructure Library (ITIL) v3)